CCAA Clinical / Supervisor
CCAA No. 600482
BPsych (hons) Supervision PACFA Reg Clinical PhD(c)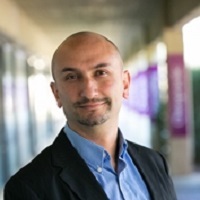 Gaston is a counsellor with over 15 years of experience helping individuals, couples and families. He also has teaching experience in the fields of psychology, counselling and education. He has worked as a clinician in Australia and overseas in different settings including universities, agencies and private practice.
Gaston was trained as a Psychologist in South America with a specific focus on CBT, he is also knowledgeable in Person Centred Psychotherapy. In Australia he is registered as a clinical member with the Psychotherapy and Counselling Federation of Australia (PACFA) and the Christian Counsellor Association of Australia (CCAA).
Besides clinical practice Gaston works at Murdoch University as a lecturer for the Master of Counselling and as the manager and clinical supervisor of Caladenia Counselling, a service attached to the Masters that serves clients from the general public.
Qualifications
Bachelor in Psychology (Hons)
PhD Candidate – Mental Health, wellbeing and technology
Clinical Supervision training
Diploma in Community-Services (financial counselling)
Masters in Business Administration and Human Resources Management
Services Provided
Gaston provides support for young people, individuals and couples in different areas, including: anxiety, depression, grief, relationships, stress management and others. He also has extensive experience in treating problem gambling and it's effects, supporting gamblers and their families to recover with evidence based strategies.
Gaston is also a registered Christian Counsellor and can offer counselling and guidance on spiritual issues. Additionally, Gaston has also completed specific training in professional supervision for counselling professionals. Gaston can provide counselling in Spanish.