CCAA Membership category training and professional practice requirements for Provisional, Graduate and Clinical Members are modelled on the basic training requirements set out by PACFA. The specific requirements for each CCAA Membership category are detailed on each individual membership application form and are also summarised below. All members are bound by the CCAA Code of Ethics and Registered Members must satisfy ongoing professional development requirements including clinical supervision for a specified number of hours annually by a CCAA or PACFA Accredited Supervisor or equivalent.
All members, regardless of which category they are registered under, receive a copy of the CCAA journal which is published annually. Registered Members whose basic training meets PACFA's training standards can apply to join PACFA, when accepted by CCAA at those levels. Once a PACFA Registrant they will be automatically listed on the ARCAP Register.
Create a user registration to apply for a CCAA Membership Today!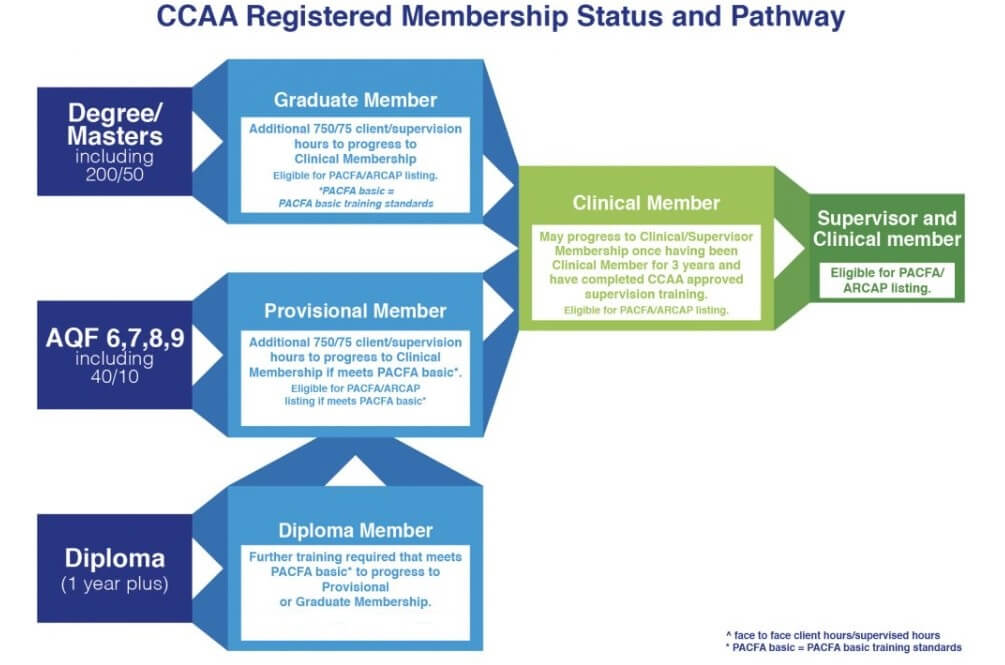 Affiliate/Associate Members
CCAA is an inclusive organisation which values the diversity of the counselling profession and, as such, we understand that some people would like to align with us even if they currently lack the necessary training and experience to meet our Registered Membership requirements. We therefore offer the following levels of affiliation with CCAA which are designed for students, pastoral workers or allied health Christian organisations. CCAA Members of these categories are not permitted to promote their affiliation with CCAA on business cards or advertising material but may cite their membership status when applying for employment.
Student Affiliate
CCAA Student Affiliates are currently studying to achieve their counselling qualifications and have not yet completed their studies or practical counselling and supervision components. Apply now
Associate
A CCAA Associate has an interest in the counselling profession but may not have undertaken formal training in counselling. These people may include pastoral workers, pastoral counsellors and Chaplains. Apply now