CCAA Membership category training and professional practice requirements for Provisional and Clinical Members are modelled on the basic training requirements set out by PACFA. The specific requirements for each CCAA Membership category are detailed on each individual membership application form and are also summarised below. All members are bound by the CCAA Code of Ethics and Registered Members must satisfy ongoing professional development requirements including clinical supervision for a specified number of hours annually by a CCAA or PACFA Accredited Supervisor or equivalent.
All members, regardless of which category they are registered under, receive a copy of the CCAA journal which is published annually. Registered Members whose basic training meets PACFA's training standards can apply to join PACFA, when accepted by CCAA at those levels. Once a PACFA Registrant they will be automatically listed on the ARCAP Register.
How do I join
In applying for CCAA membership or affiliation, you will first need to determine which of our Membership/Affiliation categories is relevant to your level of qualification. See below a chart about CCAA Membership levels and click here to compare the full details of our Membership levels or click here if you already know which level of membership you wish to apply for.
If you have completed your training via a pathway that differs from those outlined below, this does not mean you are ineligible to join CCAA, you can still apply through our RPL process.
Likewise, people with the following types of qualifications will need to apply through our RPL process:
in disciplines such as psychology, hypnotherapy, social work or coaching

in counselling combined with another discipline

in specialised disciplines such as drama therapy, music therapy or dance therapy

those gained from courses delivered solely through online or distance learning
During this process, applicants will be asked to provide details outlining how they have achieved equivalent training and experience. Please refer to our RPL policy document for more information.
If you are unsure whether your qualification satisfies the membership requirements you wish to apply for, please contact our National Office on:
CCAA is a distinctively Christian Professional Association, committed to integrating our Christian faith with our professional practice. We expect our members to be Christian disciples of Jesus Christ. 
For every level of membership CCAA also requires:
Profession of faith in Jesus Christ through agreeing to the Apostles Creed

Provision of a Confidential Reference of Christian Standing.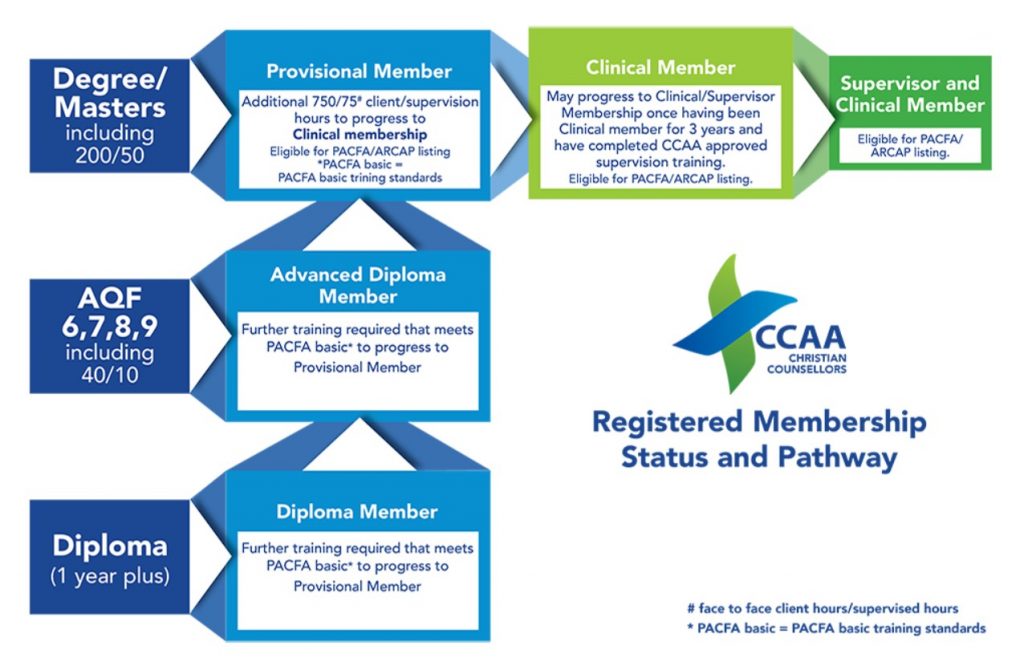 Create a user registration to apply for a CCAA Membership Today!
Registered Members
click for details
Affiliate Members  
Student and Associate (click for details)
Student Affiliate
This level of membership is open to students who are currently enrolled in a basic training counselling course accredited with either ACA or PACFA. 
Student Members are not registered members and they are not subject to the CCAA Code of Ethics. Any complaints against a Student Member are to be addressed by their training provider rather than the Association.
Student Members may participate in CCAA PD workshops, Conferences and other activities at membership rates.
Student Membership is not available to Registered Members or other people who are already practicing as counsellors, who may be pursuing higher qualifications in counselling.
Associate
Becoming an Associate with CCAA is open to any professionally qualified counsellor, allied health professional, social welfare worker, chaplain, or worker in pastoral ministry, who wishes to become involved with CCAA. An associate may also be a person who has an interest in the counselling profession, but may not have undertaken formal training in counselling.
The requirement for becoming an Associate are: professional qualification or work in a profession or field related to counselling including; counselling, psychology, social work, education, pastoral ministry, or specialist ministry related work.
An Associate:
May participate in CCAA PD workshops, Conferences and other activities at membership rates;

Is not a Registered Member of CCAA with voting rights;

May list being a CCAA associate in his or her CV or resume in support of seeking employment.
An Associate may not advertise his or her counselling services in the CCAA website "Find a Counsellor" or publicly advertise him or herself as a professionally qualified counsellor who is a CCAA member.