CCAA Membership category training and professional practice requirements for Provisional, Graduate and Clinical Members are modelled on the basic training requirements set out by PACFA. The specific requirements for each CCAA Membership category are detailed on each individual membership application form and are also summarised below. All members are bound by the CCAA Code of Ethics and Registered Members must satisfy ongoing professional development requirements including clinical supervision for a specified number of hours annually by a CCAA or PACFA Accredited Supervisor or equivalent.
All members, regardless of which category they are registered under, receive a copy of the CCAA journal which is published annually. Registered Members whose basic training meets PACFA's training standards can apply to join PACFA, when accepted by CCAA at those levels. Once a PACFA Registrant they will be automatically listed on the ARCAP Register.
Create a user registration to apply for a CCAA Membership Today!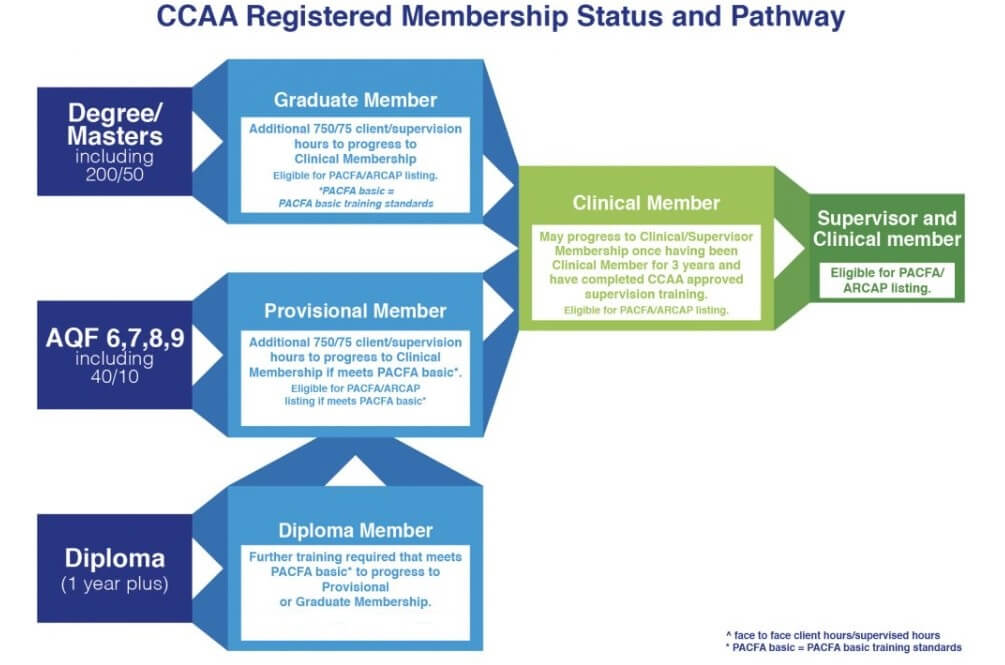 Diploma Member
CCAA Diploma Members have completed a 1-year Diploma in Counselling from a recognised Training Provider and are currently enrolled in further training in an accredited counselling training course. They are not recognised as being able to operate as private counsellors but may hold a professional position providing counselling, pastoral counselling or client support as an employee of a church, parachurch or social welfare agency and can advertise their CCAA Membership when applying for this type of employment. Diploma Members are not eligible to join PACFA or achieve ARCAP listing.
Provisional Member
CCAA Provisional Members have completed education and training in counselling and psychotherapy undertaken in a qualification approved by the Tertiary Education Quality Standards Agency (TEQSA) or the Australian Skills Quality Authority (ASQA) at either the undergraduate or postgraduate levels (AQF level 6 to 9). The minimum volume of learning requirements listed below apply to any program, whether undergraduate or postgraduate.
400 hours of instruction (minimum) (applicable to AQF level 7-9). This may be made up of:
200 hours direct person-to-person instruction of which 60 hours may be synchronous online (e.g., interactive webinars).
– This equates to 140 hours which must be solely taught face-to-face plus 60 hours of synchronous training.
– The central focus of this person-to-person instruction is on interpersonal skills development.
200 hours of instruction may be conducted via online asynchronous training for theory-based studies.
In addition, a minimum of 40 hours of face-to-face counselling or psychotherapy practice (client contact) with 10 hours of supervision (related to client contact) must be completed within training and assessed as successful by the training provider. Successful completion of supervised practice is required to be evidenced by a log signed by the responsible supervisor(s).
On occasion, Provisional Membership applicants may have completed their training via a pathway that differs from that outlined above. This does not mean they are ineligible to join CCAA however their application will be assessed through our RPL (Recognised Prior Learning) process. During this process, applicants will be asked to provide details outlining how they have achieved equivalent training and experience. Please refer to our RPL policy document for more information (link to RPL policy document).
Provisional Members become registered voting members of CCAA and may practice professionally as counsellors either in private practice or as employees. They may promote their CCAA Membership publicly and may also advertise their services on the CCAA website under "Find a Counsellor". Provisional Members must provide proof that they are covered by professional indemnity insurance and, for those Provisional Members whose basic training meets PACFA's training standards, are eligible to join PACFA and achieve listing on ARCAP. Apply now.
Graduate Member
CCAA Graduate Membership requires individuals to have met the qualifications of the PACFA basic training standards which includes 50 hours of supervision related to 200 hours of client contact in their training. CCAA created Graduate Membership to recognise members who have achieved the additional practice and training beyond the Provisional level but who have not yet qualified for Clinical Membership. It is an additional membership category over and above standard PACFA Membership levels. Graduate Members are afforded the same benefits as Provisional Members and are eligible for ARCAP listing when they join PACFA as a member of a Member Association. Apply now.
Clinical Member
CCAA Clinical Membership includes the same requirements as Provisional and Graduate Membership plus additional professional practice requirements comprising a further 75 hours of supervision linked to 750 client contact hours in professional practice that is post-training. Clinical Members are also required to undertake 5 hours of theological integration development and 4 hours of supervision with a CCAA Accredited Supervisor with the supervision being focused on the integration of Christian faith and theology with professional practice. Clinical Members receive the same benefits as Graduate Members. Apply now .
Clinical/Supervisor Membership
To be considered for CCAA Clinical/Supervisor Membership, applicants must have been Clinical Members for 3 years and have completed the prerequisite supervision training. Clinical/Supervisor Members receive the same benefits as Clinical Members as well as being able to list their practice on the CCAA website under "Find a Supervisor". Apply now.
Affiliate/Associate Members
CCAA is an inclusive organisation which values the diversity of the counselling profession and, as such, we understand that some people would like to align with us even if they currently lack the necessary training and experience to meet our Registered Membership requirements. We therefore offer the following levels of affiliation with CCAA which are designed for students, pastoral workers or allied health Christian organisations. CCAA Members of these categories are not permitted to promote their affiliation with CCAA on business cards or advertising material but may cite their membership status when applying for employment.
Student Affiliate
CCAA Student Affiliates are currently studying to achieve their counselling qualifications and have not yet completed their studies or practical counselling and supervision components. Apply now
Associate
A CCAA Associate has an interest in the counselling profession but may not have undertaken formal training in counselling. These people may include pastoral workers, pastoral counsellors and Chaplains. Apply now